16 Sep

V12 FOOTWEAR IS AN OFFICIAL BAND OF BUILDERS PARTNER
V12 Footwear is very proud to be an official supporter of Band of Builders (BoB), a registered charity that provides help and support for tradespeople and their families facing adversity due to illness, injury, and life-changing circumstances.
Since their first project, the incredible response from tradespeople across the UK demonstrated what can be achieved when the industry stands together (#TogetherStronger). They have changed many lives with their outstanding work and it is our pleasure to support the charity as they continue to help those around the UK.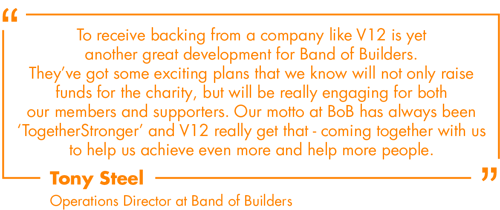 V2150 BOB CHARITY BOOT
As part of our partnership, we are ensuring you have access to high-quality protection whilst also supporting Band of Builders as it continues to help more tradespeople in need across the UK. Features of the V2150:
High-quality suede leather
Lightweight composite toecap
4* GRIP-rated IGS sole
Cushioned anti-fatigue comfort insole
Flexible anti-penetration steel midsole
Ladder grips
Moisture-wicking lining to keep feet cool and dry
Cut-away padded collar for increased comfort